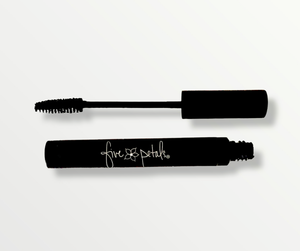 Our all-natural, water-based mascara lengthens, separates, and thickens lashes without crumbling or flaking. Safe enough for your real lashes and safe enough for your eyelash extensions. It even promotes lash growth and lash fallout-prevention.
Organic Chamomile calms all irritation.

Organic Carnauba Wax is a natural thickener that doesn't clog pores, ensuring a smooth application for silky lashes. But it gets better! This mascara also softens lashes at the same time, leaving your eyelashes voluminous and clump-free!

Vitamin E Nourishes lashes to promote growth.

Organic Sunflower Oil moisturizes and prevents lash fallout. 
Made in the USA using Natural Ingredients 
Ingredients: Water, 
Organic Chamomile, 
Organic Beeswax, 
Glycerol, 
Organic Carnauba Wax, 
Organic Sunflower Oil, 
Stearic Acid, 
Rice Powder, 
Organic Lecithin, 
Shellac, 
Vitamin E, 
Sodium Hydroxide, 
Origanum Vulgare Leaf Extract, 
Cinnamomum Bark Extract, 
Organic Rosemary Leaf Extract, 
Organic Lavender Flower, 
Organic Golden Seal Root Extract, 
Organic Lemon Peel, 
Caprylyl Glycol 
May Contain Natural Dioxides & Oxides 
*ACTUAL PRODUCT COLORS MAY VARY FROM COLORS SHOWN ON YOUR MONITOR
* Due to the Organic Beeswax this product is not Vegan