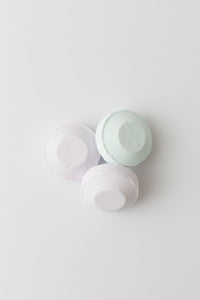 * Please note price reflects 1 shower steamer and is not sold as a set*
Want to relax and don't have time for a therapeutic bath...try our therapeutic shower steamers.
Made with 100% natural ingredients and are handmade. Our Shower Steamers are 
packed full of healing, nourishing, and beneficial organic ingredients found in nature. 
No additives or chemicals and NEVER ANY DYES. Perfect for sensitive skin.
Proudly made in the USA!
Rain Lily: This Eucalyptus scent will help open up airways and soothe achy muscles. The eucalyptus essential oil will make you feel rejuvenated again.
Purple Petals
: In need of a spa like experience then try this lavender shower steamer. This fresh lavender smell will make you feel like you just stepped in the spa. The calming clouds of steam will help you relax putting your body to ease. 
Directions

:
 Place shower steamers in the corner of your shower where it can be activated by water droplets but avoid direct water stream. 
Ingredients: Sodium Bicarbonate, Citric acid, Corn Starch, Isopropyl Alcohol,
Essential Oil, Mica
NET WT. 3oz